We use price channel for our forex analysis frequently. Here is an example in August. EURUSD fell from 1.2908 and tested the price channel in August 9, the fall is limited by the price channel and rebounded to 1.2908 area in August 10.
How to draw a price channel
1. Run MetaTrader and press the "Equidistant channel" button on the tool bar.
2. Draw the first line from A to B.
3. Move the second line to C.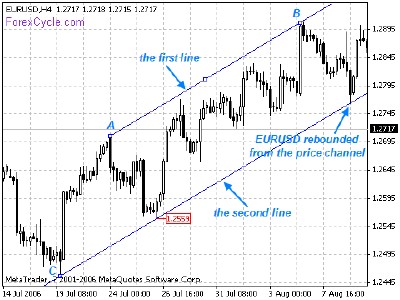 Another way to draw a price channel
The "Equidistant channel" tool can draw 2 lines, but how to draw multi-line inside the price channel? Here is another way to draw parallel line.
1. Draw line 1 from A to B.
2. Double click the line 1 until it is shown as edit mode.
3. Press and hold "Ctrl" button from the keyboard, move the line 1 to the location you want line 2 to place on.
4. Repeat 2 and 3 step to draw line 3, 4…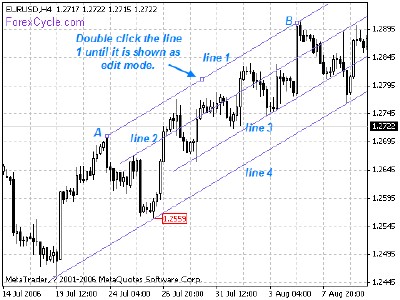 See also:
How to use MetaTrader to find market cycle
MetaTrader has an excellent tool to help you identify the market cycles.
Forex Trading Strategy
Learn how to day trade/swing trade major currency pairs.
Institutional Forex System
If you insist on trading forex, I will show you 3 trades that will make you 10-30% every month with 93.3% accuracy.