AUDUSD Analysis.
AUDUSD stays in a upward price channel on 4-hour chart, and remains in uptrend from 0.9861. Initial support is at the lower line of the channel, as long as the channel support holds, the price action from 1.0385 is treated as consolidation of uptrend, and another rise towards 1.0600 is still possible. Key support is at 1.0145, only break below this level will indicate that the uptrend has completed at 1.0385 already, then the following downward movement could bring price back to 0.9800 zone.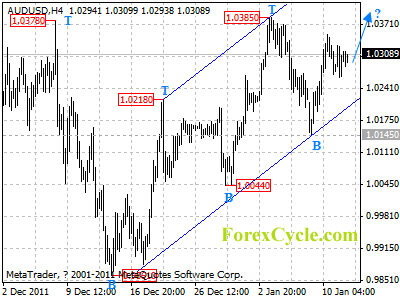 USDCHF Analysis.
USDCHF moved sideways in a narrow range between 0.9465 and 0.9594. Resistance is at 0.9594, above this level will indicate that the uptrend from 0.9244 has resumed, then further rise towards 1.0000 could be seen. However, another fall towards the upward trend line from 0.9066 to 0.9304 would more likely be seen, and a breakdown below 0.9465 support will confirm the completion of uptrend from 0.9244.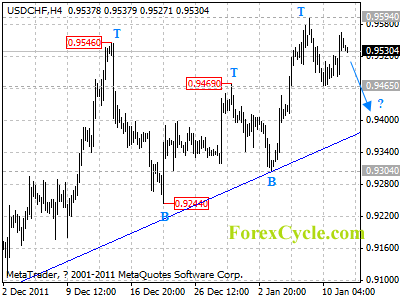 EURUSD Analysis.
EURUSD remains in downtrend from 1.3076, the price action from 1.2666 is treated as consolidation of downtrend. Another rise to 1.2900 area to complete to consolidation would likely be seen.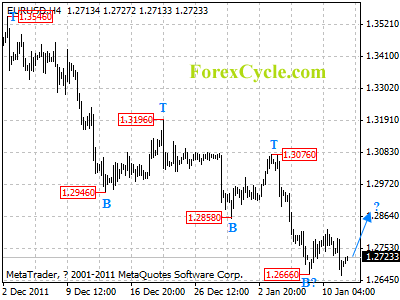 USDCAD Analysis.
USDCAD's downward movement from 1.0318 extended to as low as 1.0139. Further decline would likely be seen later today, and the target would be at 1.0100 area. Resistance is at 1.0210, as long as this level holds, downtrend will continue.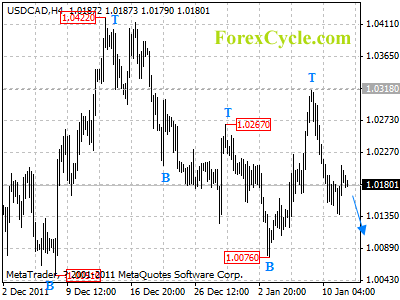 GBPUSD Analysis.
GBPUSD broke below 1.5362 support, and reached as low as 1.5309. Further fall to test 1.5272 (Oct 6, 2011 low) support could be seen later today, rebound is possible before breaking below this level. However, a breakdown below 1.5272 will indicate that the longer term downtrend from 1.6745 (Apr 28, 2011 high) has resumed, then the target of the long term downtrend would be at 1.4500 area.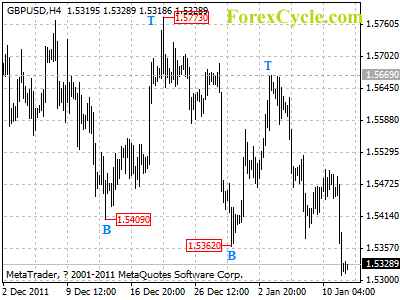 USDJPY Analysis.
USDJPY continued its sideways movement in a range between 76.60 and 77.32. Lengthier consolidation in the range would likely be seen in a couple of days. Key resistance is at 77.32, a break above this level will confirm that the fall from 78.21 had completed at 76.60 already, then further rise to test 78.27 resistance could be seen. Support is at 76.60, only break below this level could trigger another fall to 76.00 zone.