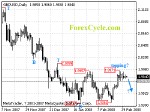 GBPUSD might be forming a cycle top at 1.9971 on daily chart. Key support is at 1.9760, a break of this level will confirm the cycle top and signal the resumption of the down trend, pullback to test 1.9337 could then be seen.
For long term analysis, the pair is in long term bearish movement. The rise from 1.9337 is treated as consolidation to the long term down trend. Further fall towards 1.8000 area to reach the next long term cycle bottom on weekly chart is still possible after consolidation.
More long term forex analysis.
See also:
Forex Articles
Forex Reviews
Powerful Profit System
Automate Your Trading Profits