USDJPY Analysis.
USDJPY stays in a downward price channel on 4-hour chart, and remains in downtrend from 84.17, the price action from 80.31 is likely consolidation of the downtrend.. Now the fall from 81.77 would possibly be resumption of the downtrend, another fall to 79.50 area is possible over the next several days. Key resistance is now at 81.77, only break above this level will indicate that the fall from 84.17 had completed at 80.31 already, the further rise to 83.00 could be seen.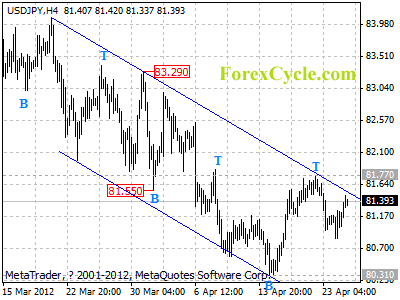 USDCAD Analysis.
USDCAD is facing the key support of 0.9841 again, a breakdown below this level will signal resumption of the downtrend from 1.0422 (Dec 14, 2011 high), then deeper decline to 0.9600-0.9700 area could be seen. However, as long as 0.9841 level holds, lengthier consolidation in the range between 0.9841 and 1.0051 is still possible.
EURUSD Analysis.
EURUSD remains in the short term uptrend from 1.2995. Support is now at the upward trend line on 4-hour chart, as long as the trend line support holds, the uptrend could be expected to continue, and next target would be at 1.3300 area.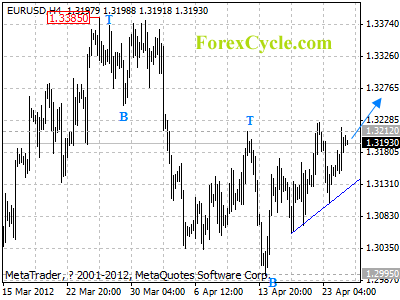 AUDUSD Analysis.
AUDUSD's fall from 1.0451 extends to as low as 1.0246. Another fall to re-test 1.0225 previous low support could be expected later today, a breakdown below this level could signal resumption of the longer term downtrend from 1.0855. On the other side, as long as 1.0225 support holds, lengthier sideways movement in the range between 1.0225 and 1.0463 is still possible.
GBPUSD Analysis.
GBPUSD's upward movement from 1.5818 extends to as high as 1.6162. Further rise is still possible in a couple of days, and next target would be at 1.6200 area. Support is at 1.6075, as long as this level holds, the uptrend will continue.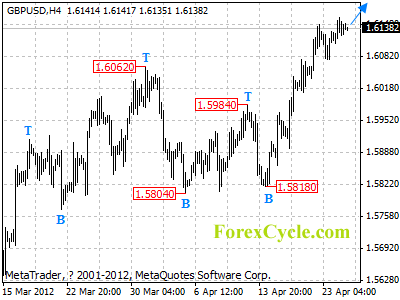 USDCHF Analysis.
USDCHF remains in downtrend from 0.9250. Further decline would likely be seen later today, and next target would be at 0.9050 area. Resistance is now at the downward trend line on 4-hour chart, only a clear break above the trend line could signal completion of the downtrend.